Are you looking for a climatic place to spend an unforgettable vacation with your family and friends? Or maybe you are on a business trip to Germany and want to rent a comfortable room in Zary on the way? Accommodation in the intimate agritourism Stary Folwark will bring you respite and allow you to relax after many hours behind the wheel. We will take care of your comfort, well-being and food.
We have taken care not only about comfortable rooms, cottages and apartments, but also about tasty cuisine and additional attractions. No matter how long you will be our guest, you will surely not experience boredom. You will be entertained both within the agritourism area and outside – the surroundings are truly beautiful and enchanting with its natural wealth.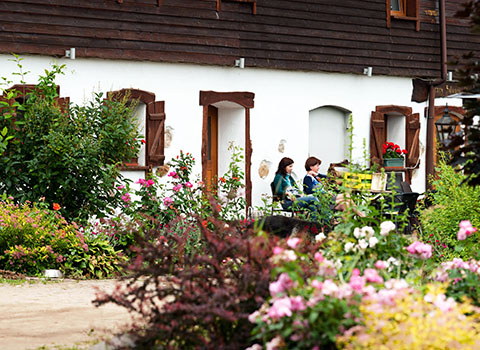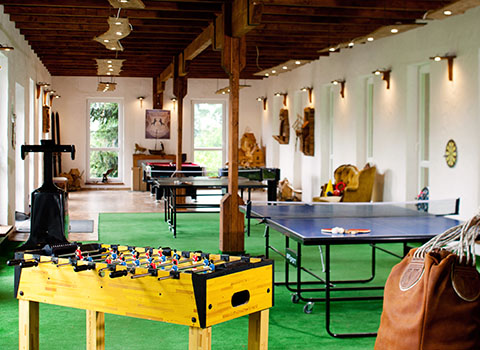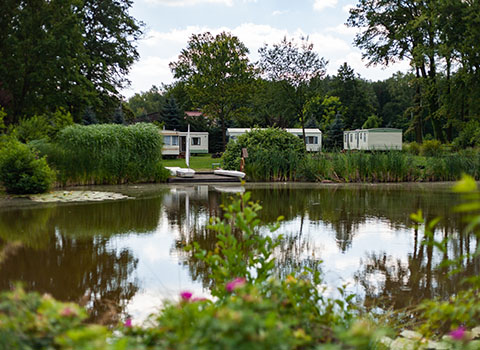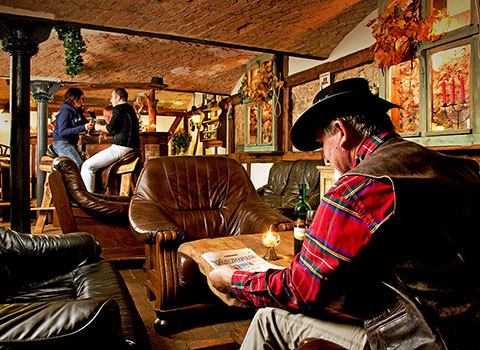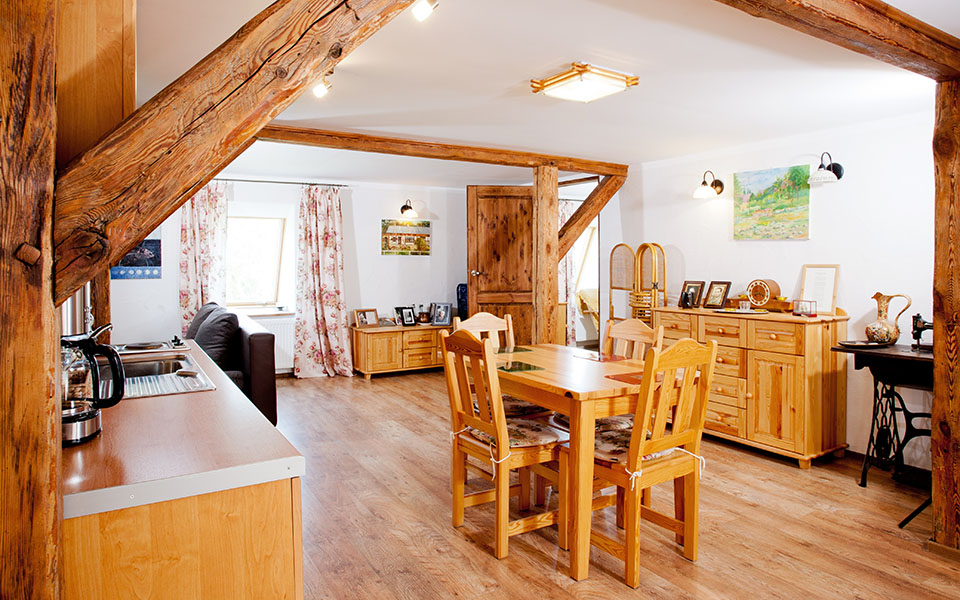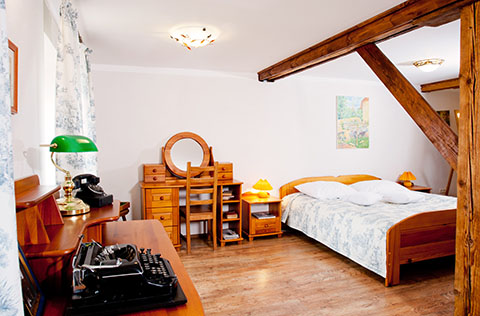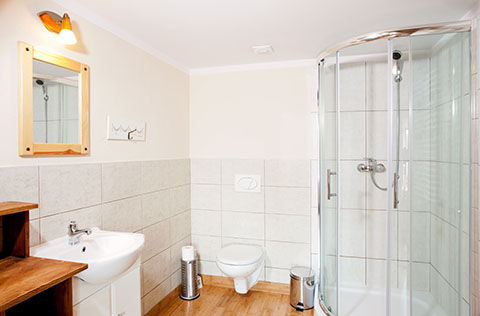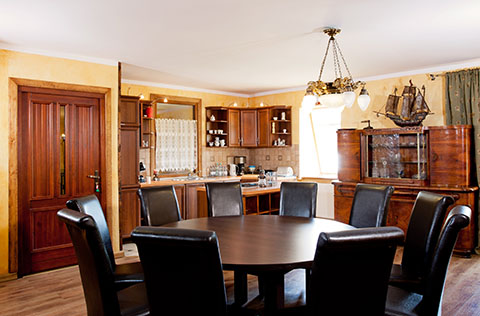 Accommodation in Spichlerz Pension
Our guests have at their disposal the Spichlerz guest house decorated in an idyllic rural atmosphere. The rooms are bright and spacious, each has a bathroom and kitchenette with basic equipment and dishes. We guarantee privacy, peace and quiet and unlimited access to:
wireless,
TV, which receives digital television,
a travel cot,
a travel crib, a potty, a stroller,
an extra bed,
heating, which allows the rooms to be used all year round.
The furnishings are in a harmonious style – we focused on wooden furniture, patchwork bedspreads, floral curtains. Wooden beams and pillars support whitewashed ceilings. The whole looks very stylish and cozy.
Behind the windows, there are beautiful countryside views. There's no shortage of greenery, and you'll be surprised to find a pond hidden among spectacular trees and a large stork's nest nearby.
The common areas include a library with a newspaper corner, access to board games, a pool table and foosball, a minibar, and a playroom.
Book comfortable rooms in Zary
Rent comfortable rooms in Zary in advance using the online booking system. In addition to accommodation in the Spichlerz guesthouse you can opt for a stay in an independent, climatic Dutch cottage in the immediate vicinity of the forest, and a spacious luxury apartment.
Both a longer stay and a short visit to Stary Folwark are a guarantee of relaxation. Endless walks among 300-year-old beeches and oaks, bonfires under secluded shelters, refreshing baths in the pond or finally delicious feasts passed in a joyful atmosphere with the sound of music – it is hard to find a facility in Lubuskie which would be as climatic and cordial for its guests.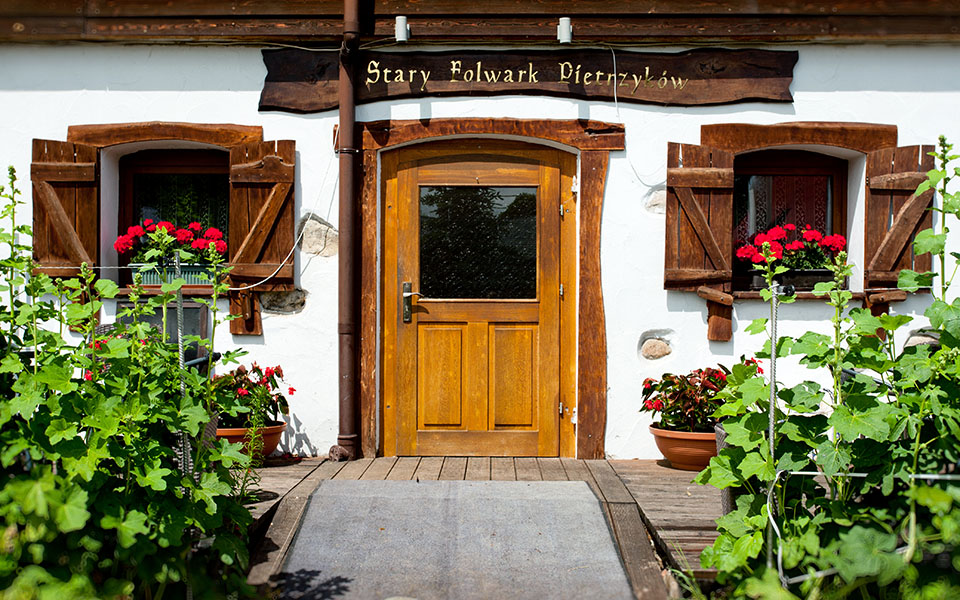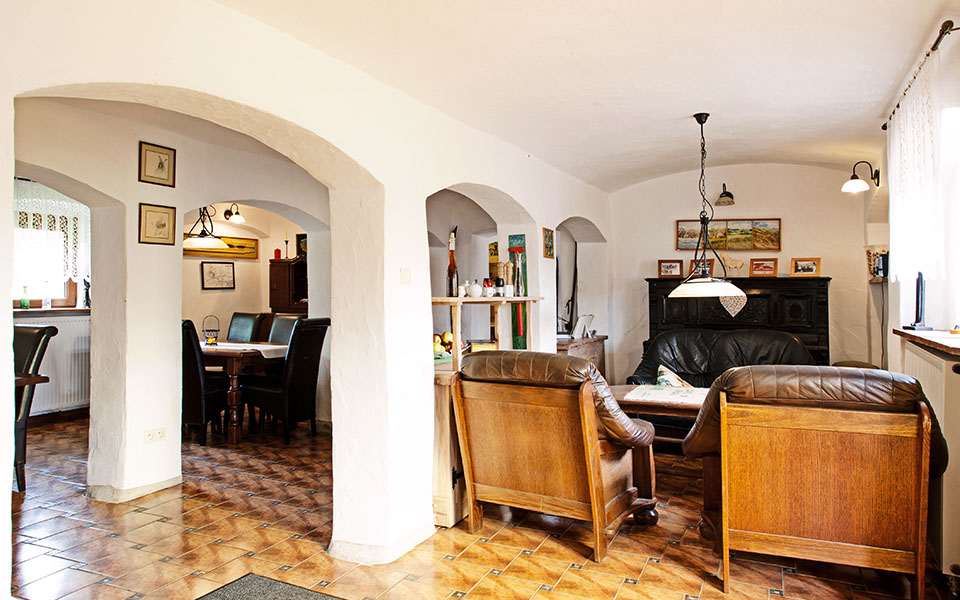 Reservation for 1 night 140 zł/person without breakfast
Single person apartment 130 zł/person without breakfast
Apartment for two persons and more 130 PLN/person without breakfast
Dutch cottage for six persons 300 PLN/day without breakfast
Children's stay:
Children from 0-3 years free of charge
Children from 4 to 10 years 80%
Over three nights stay 15% discount on accommodation (does not apply to children)
Cost of breakfast 20 zł/os
Flat-rate meals
Two-course dinner according to the Chef's menu + sparkling water with lemon + cold plate dinner 70 zł/os
Two-course dinner from 40 zł/person
Russian bubble bath 150 PLN – earlier declaration necessary
Check-in starts from 16:00 on the day of arrival and ends at 11:00 on the day of departure
Check-in up to 19:00
If you wish to check-in later, please declare it in advance. Late check in is subject to additional fee of 50 PLN.
Extension of the hotel day until 14:00 is subject to an additional fee of 50 zł.
Pet stay: 20 PLN/day (you must have your own bed and bowls for your pet)
Breakfast on weekdays from 7:00 am to 10:30 am.
Breakfast on weekends and holidays from 9:00 to 10:30 am.
Shortened stay: 50% of the standard fee for unused nights
Condition for confirmation of reservation after prior checking the availability of accommodation is to pay a deposit of 50% of the reservation.
Reservations made by persons who have not paid the reservation fee will be considered unconfirmed.
Are you looking for a perfect place to relax?
Are you planning a shorter or longer vacation?
We will help you to relax.